Today is the last day of my 20s. And so I'm doing a café crawl, going to all the coffee shops I can and writing blog posts… basically what I've been doing for the last six years of my life (I can't tell if that sounds more braggy or embarrassing, but it is true).
My 20s were filled with cafés. At 20 years old, never having spent much time in a coffee shop before, I discovered I loved the atmosphere of coffee shops.
And so this is a list of the top 10 cafés and coffee shops of my 20s.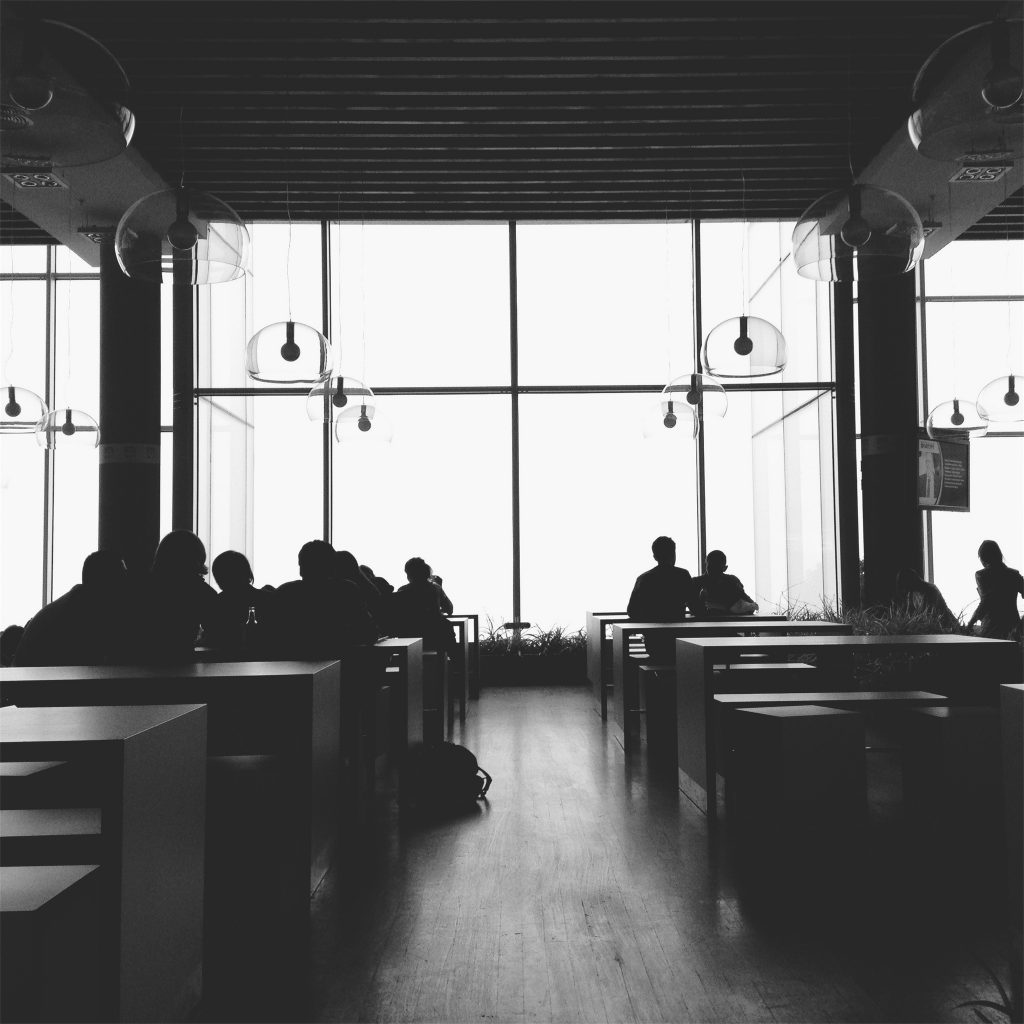 1. Coffee Cat, Santa Barbara
Many college students go to coffee shops to study, but I didn't study at coffee shops often, partially because I didn't have a car and partially because I never ended up spending much time studying when I went to them.
My best friend, Brett, liked to study at them though, and so I would sometimes go with him. I remember one time in particular it was Valentines day, and his sort-of-girlfriend didn't want to hang out with him on Valentines day and my sort-of-girlfriend didn't want to either, and so we went to Coffee Cat in Santa Barbara.
It was very depressing.
I went for a long walk that night, through parking lots and down alleyways, listening to some depressing indie band. I remember walking by the Santa Barbara Courthouse, which is Spanish style and has white walls and red tiles and a beautiful, sandstone arch.
And there, in the arch, was a classical guitarist playing the most beautiful music I'd ever heard on the street, and his notes echoed off the stone and I felt very sad and full to the brim of joy.
I told Brett about it after I got back to Coffee Cat and he went to see the guitarist too and to this day we talk about it as the worst Valentines Day of our lives.
Brett would later marry his sort-of-girlfriend but mine would end up breaking my heart as bad as it had ever been broken. Because that's what your 20s are for, right? :/
2. Java Joe's, Santa Barbara
This place no longer exists. It went through two or three owners even while I was a patron.
It was on State Street, the main drag in Santa Barbara, and I would go there late at night when I was working on one of my business ideas or my writing. I was just 21 or 22, and it felt like a very brave and cultured thing to do, to go to a coffee shop at 9 pmt and work until it closed at 11 pm.
I remember leaving there one night and looking around me at the lit up street and thinking everything was glowing golden. Perhaps it was the caffeine or the fancies of youth or perhaps I was just finally seeing things as they were for the first time, bright and alive and filled with wonder.
Everything, in that moment, was full of wonder.
It was the same thing Annie Dillard talked about in Pilgrim at Tinker Creek:
Then one day I was walking along Tinker creek and thinking of nothing at all and I saw the tree with the lights in it. I saw the backyard cedar where the mourning doves roost charged and transfigured, each cell buzzing with flame. I stood on the grass with the lights in it, grass that was wholly fire, utterly focused and utterly dreamed. It was less like seeing that like being for the first time see, knocked breathless by a powerful glance. The flood of fire abated, but I'm still spending the power.
I went to that coffee shop many times after that. I took girls there, too, hoping the magic of the place would rub off and once it did, but that's a different story. Sometimes the street would light on fire and the wonder would come again, but mostly it wouldn't.
Wonder, like magic, is rare and unpredictable.
3. Unnamed Café, Pula, Croatia
It was in a cobblestoned square beside an ancient Roman temple (the tall, narrow kind with giant columns) and the tables were crammed together all outside. The waiters were slow and it took me three times before I figured out what to order because all the coffee was served in tiny cups. I never knew what I should tip.
In other words, it was your typical European café. Except for me it was my first European café.
Since then I've been to cafés in Paris, southern Spain, Frankfurt, Sofia, Cyprus, Istanbul, and a few other European cities. But that café taught me to love Europe, its pace of life, its people watching, and its tiny cups.
I don't remember the name of that café but if I ever visit Pula again (and I hope visit Pula again, because it's a magical city), I will know exactly where to go.
4. Inman Perk, Gainesville, GA
I wrote about Inman Perk here.
Short version: I wrote my first four books, started The Write Practice, my first business, and also first fell in love with my wife here.
5. Coutume Café, Paris, France
It took me a long time to find the right café in Paris.
The problem is there are so many of them, over 10,000 just within the traditional perimeter.
The first day we were there, I walked around for almost two hours looking for the right one. It was cold and I got lost several times and in the end I settled for Starbucks because I had to go somewhere and at least they had free wifi.
Except they didn't, or at least it was so slow as to be unusable.
I sat there drinking the worst possible drink—espresso with a dollop of whipped cream, disgusting—feeling ashamed, like I hadn't lived up to Paris, like I would never live up to it, and that I had no business being there.
Coutume was like an oasis. It was started by an Australian, which meant the coffee was good (Parisians call the coffee in Paris "sock water"), not too expensive (relatively), plus they spoke English, which felt a little like cheating, but half the staff was French so it was okay.
I went there almost every day I was in Paris. In the afternoons, I would often go to a traditional Parisian café, usually Café Marie which overlooked Saint Sulpice Cathedral and was a thirty second walk from our apartment. However, Coutume felt like home, and by the time I left, I knew them all by name and they knew me, too.
6. Octane Coffee Bar, Atlanta, Georgia
I wrote about Octane here.
This was my first coffee shop in Atlanta, which is where I now call home. It's also where Hilary Clinton gets coffee when she's in Atlanta, apparently.
Parking at Octane is difficult and finding a table with an outlet for your computer (and often a table at all) can be almost impossible, so I rarely come here these days. Instead I go to Joe's in EAV (my neighborhood coffee shop) or Carroll Street Café. But I have fond memories at Octane and am always looking for an excused to go.
Because I Don't Have Time to Write About the Other Four
For a writer, atmosphere influences everything you write, and so a good coffee shop is like a treasure. Many of my best memories from my 20s happened at coffee shops. Now that I have an office, I don't get to spend as much time in them, but I will always think of them as a kind of home.
Here are a few other favorites that I didn't have time for:
Lucky Llama, Carpinteria, CA
Java Station, Santa Barbara, CA
Starbucks (especially the ones on State and Victoria in Santa Barbara, on Carpinteria Avenue in Carpinteria, and on Ponce in Atlanta)
Java Joe's, Atlanta, GA
Oh and also:
French Press, Santa Barbara, CA
The Peet's on Upper State in Santa Barbara, CA
More that I'm forgetting the names of
Do you have a coffee shop or café that is especially meaningful to you? Tell me about it in the comments.